The Stadium is constructed on a footprint covering 38,700m squared not including car parks and access roads.
The Stadium design is based on canter levered prefabricated steel roof and terrace structuring and the maximum seating capacity is 25,133.
The pitch is a state of the art design and construction utilising a sand based matrix which contains an irrigation and under soil heating system.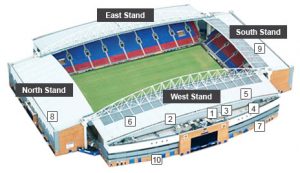 Room Location
| | | | |
| --- | --- | --- | --- |
| 1. | President's Lounge | 6. | Coors Lounge |
| 2. | Executive Suites 1-2 | 7. | Rigalettos Italian Restaurant |
| 3. | Executive Suites 3-4 | 8. | The Marquee |
| 4. | Wish FM Lounge | 9. | DW Sports Fitness Lounge |
| 5. | Club Lounge | 10. | Players Lounge |
For more information, please call the SALES TEAM on 01942 774000 or complete our on-line ENQUIRY FORM