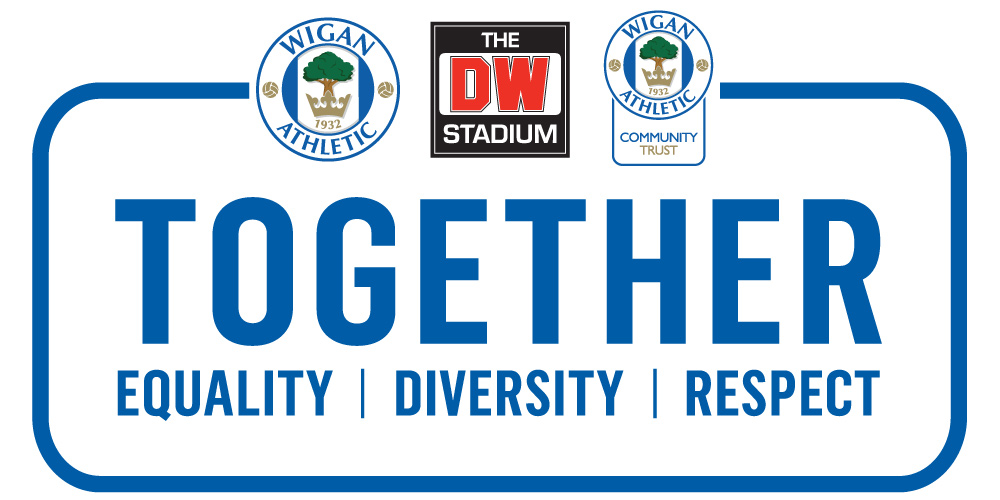 EQUALITY AND DIVERSITY ADVISORY GROUP – VOLUNTEER MEMBER
As part of Wigan Athletic Football Club, Wigan Athletic Community Trust and the DW Stadium commitment to its 'Together' programme, the organisation is creating an Equality and Diversity Advisory Group and invites expressions of interest from volunteers wanting to act as an Equality and Diversity Group Member.
The 'Together' programme was launched in November 2015, with the aim of improving what we do, with a particular emphasis on Equality and Diversity, and how we can work as one to share good practices and improve on the ones already in place.
The role of the group is to provide Equality and Diversity specific advice, guidance and to challenge what we do and how we do it across the organisation to enable us to fulfill our aspirations to embed equality and diversity into their activities and services.
The volunteer will have extensive knowledge, and possible experience, of working within Equality and Diversity, ideally embedding the topic and challenging mindsets, have experience and/or expert knowledge of Equality and Diversity in a customer focused, complex and fast paced environment, and to have a clear understanding of equality legislation that impacts on organisations.
If you are interested in this voluntary opportunity, please complete the enclosed expression of interest form and return to Louise Kerrigan, Head of HR and Safeguarding, Wigan Athletic Football Club, DW Stadium, Loire Drive, Wigan, WN5 0UZ or alternatively email l.kerrigan@wiganathletic.com
The closing date for receipt of expressions of interest is 5pm on Friday 28th April 2017.
If you have any queries regarding the group or this opportunity, please do not hesitate to contact Louise Kerrigan on 01924 774000.
To view the expression of interest, please click here