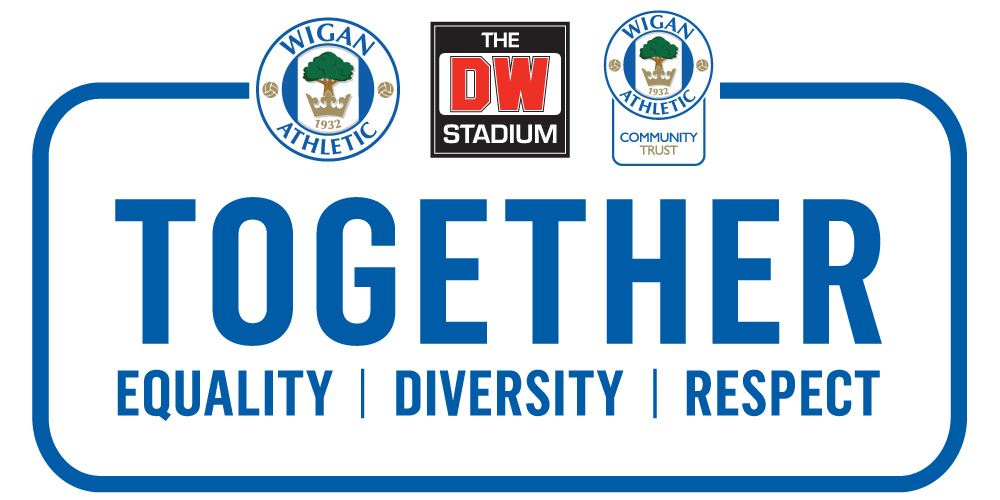 The Equality and Diversity programme TOGETHER was launched at last season's Southend game. The Southend fixture was also the season's designated Kick it Out game.   The Southend United fixture marked the official launch of TOGETHER, a programme to highlight all the work undertaken by Wigan Athletic Football Club, its registered charity Wigan Athletic Community Trust and the DW Stadium in promoting equality and diversity across the organisation.
The fixture is also the designated Kick it Out game for the 2015-16 season and will see the introduction of a new reporting line and Together branding around the DW Stadium.
The new reporting text line, 80800, should be used by supporters to report any incident of anti-social behaviour or discrimination. Read more here.
As part of the day, first-team players will be warming up in Together and Kick it Out t-shirts and the Community Trust are organising activities in the Family Fun Zone before kick-off.
Jonathan Jackson, Wigan Athletic Chief Executive, said: "Wigan Athletic Football Club is very proud of its relationship with its supporters and the Wigan community and TOGETHER builds on this relationship and will ensure that, as an organisation, equality and diversity is embedded into what we do and how we do it.

"The recent supporter survey is part of this work and we are also eager to hear suggestions from supporters to help to improve our work promoting equality and diversity."
In May 2014, Wigan Athletic became one of only a few clubs outside of the Premier League to achieve the Kick It Out Equality Standard – Preliminary Level and is now working towards gaining the Premier League Equality Standard Intermediate Level.
A short video to mark the launch of TOGETHER, featuring members of staff from across the organisation is available to watch.  To find out more about TOGETHER please see below: